Mint Dress - Design
I feel like tie-backed dresses have been following me! First of all, I've been thinking of sewing another one of these:
(another dress I made for my Maturaarbeit last year, it's not exactly "tied", but it has that shape too)
And then I found these online yesterday: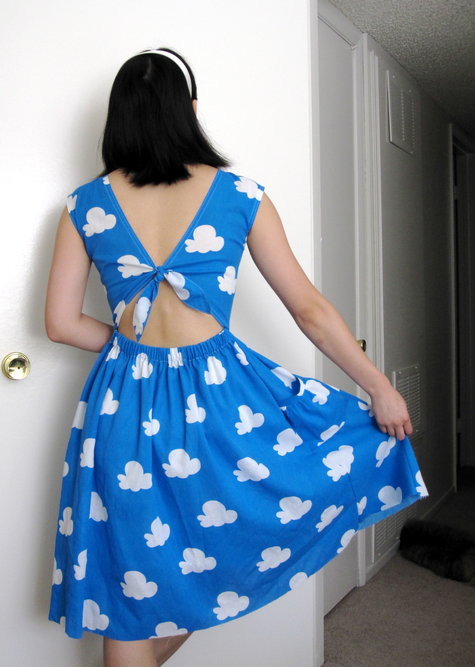 1. from lookbook.nu (the look has been deleted... or at least that's what the site tells me) 2. from burdastyle user cationdesigns
So that's what the back of the dress will be, tied (see sketch below). I had a hard time deciding what I wanted the front to look like:
But after going through my 40s/50s/60s inspirations folder, I settled on this picture for inspiration:
(via Gertie's Blog)
A sweetheart neckline! I've been wanting to make one for a while, so why not now? I will make straps though.
So I spent some time today drafting the pattern for the front. From what I can tell there's a center front seam, a side bust dart, and two center bust darts. Not sure if there is a bust dart coming from the bottom, but I drafted a pattern without one:
the cut out piece is the pattern I used for the floral dress, slightly altered to fit this design. The bottom one is the next step where I pivoted the bust dart to the center front seam. I then added another fold to the center front (just by holding it up to my body and pinching the tissue paper):
(ignore the top dart (drawing mistake), just the two along the center front seam and the side seam will be there)
I'll do the back bodice piece tomorrow and sew a muslin too :)